I got some awesome goodies via Etsy lately and just had to share! First are some perfume samples from WigglePerfume. I love this seller's perfume creations and own a few bottles of various scents. This time, I tried some of her new stuff: Guajira, Soledad, and Annabelle.

Here's some reviews:



Annabelle
Description: Perhaps an odd choice for summer, I just had this oakmoss and wild rose blend stuck in my head for ages and had to get it out. Actually, now that I think about it, it's perfect for our Nothern summers, like hiking in the woods on a sunny, mild day. I've rounded it out with apple blossom and a hint of peony for an earthy floral effect that will make you feel like a leaf-clad wood nymph (though maybe with a bit less moss in your hair).
My review: In the vial this smells of sweet apple blossom and roses with just a hint of oakmoss. On my skin, the apple blossom is still the heaviest note with the roses blending into it creating this baby-sweet floral perfume. The peony is very light in it, as well. I'm no longer getting any oakmoss however. After a while, this becomes a little less sweet. The peony comes forth and the apple blossom follows behind it. This becomes a fresh, sweetened floral blend (but not as sweet as before) with a light overtone of clean oakmoss. Very pretty, and very feminine.

Soledad
Description: Finally! I've been trying to get these pictures taken for a couple weeks and things just kept getting in my way. Here it is, my San Diego blend. I've mixed plumeria, hibiscus, and pikaki with marine notes, earthy chaparal brush, eucalyptis, and a tiny drop of coconut. I think it's best described as a high-end daytime fragrance, or a casual evening one. Soledad is polished, fresh, and clean, yet still sunny.
My review: In the vial this smells like a very aquatic floral with an undertone of herbs. On my skin, this smells like very aquatic, clean flowers… almost like the scent of a fabric softener or something. It's very pretty and floral, but has a definite "clean laundry" type of feel to it. It's a bit complex though, which is nice; the marine notes and exotic, thick florals make up the majority of the scent, but the eucalyptus kind of tickles the nose by flitting above, and the hint of coconut lingers in the background. After a while, the coconut comes out quite a bit more. It mixes with the marine notes and an overtone of lots of flowers to create this very interesting sun-drenched exotic locale type of vibe. A very pretty perfume, and I can imagine this is very wearable. Unfortunately, it's not for me

Guajira
Description: This scent may just sneak up on you. It's my little Cuban daydream; a counterintuitively intoxicating blend of coffee, brown sugar, and tropical blooms. I've added the tiniest hints of blood orange and tobacco which I think round this out into something darkly sweet and humid
My review: This smells like a mix of toffee, coffee, and flowers in the vial. Kind of like going to a Yankee Candle shop and leaning in to smell a brown sugar or toffee candle, but still being able to smell the more floral candles that happen to be next to it. On my skin, the flowers are more assertive, but the coffee and brown sugar come out from behind and make this VERY sweet. The notes in this aren't blending well for me and seem to be clashing almost as I sniff. After a while, the floral notes fall back a bit, and this seems much better balanced. However, the notes still seem to clash and not really blend together. Also, this is still very sweet on my skin… too sweet for me.


Although I enjoyed testing all three scents, I don't think any of these are quite right for me as far as perfume goes.



Now onto some jewelry!! First, a picture...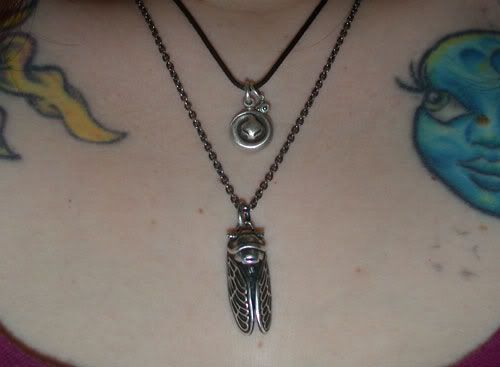 The top one is a gorgeous pendant and cord set from JewelsVine. In particular, this pendant and this cord. The cord came with a tiny little skull charm (and I mean really tiny.. the skull is only about 5mm) and I got it with all sterling-silver accents.

The bottom one I JUST got in the mail today, which is pretty fast considering it came all the way from China and was shipped JUST last week! It's by 39 Metal Workshop who's selling as newandnotable on Etsy. It's this pendant (with chain included). My picture doesn't do it justice, really... it's incredibly detailed and a very solid piece of jewelry. It even has the underside with the legs all curled in! There's pics of that in the listing, so check it out.